[Aconia Studio] My working day with BSM solution
" Let me introduce my lab. Really we are not a dental lab like usual, we are a milling center. We sold equipment and materials for cad/cam. I visited many labs in Russia.
I decide to go another way:
- high-quality material,
- minimum staff,
- time for produce not more than 24 hours,
- no gypsum or printing models,
- milling only zirconium restorations.
This is Besmile company!
Every Year I visiting the Besmile office and factory in Chengdu. This is a young and friendly team, they are like a family. The Research Department of the company always looking for the best solution. Engineers of the company are always ready to help during 24 hours. It's very important especially for user's who never used such equipment before."
---
Enjoy a fluid dental lab experience with BSM high-performance CADCAM solution. See the latest innovation in action during Electronic engineer Dr. Igor Solodkij,
the Owner of milling center 's upcoming webinar on Wednesday, Sept 23 at 5:00 PM via @cdbesmile Facebook Live.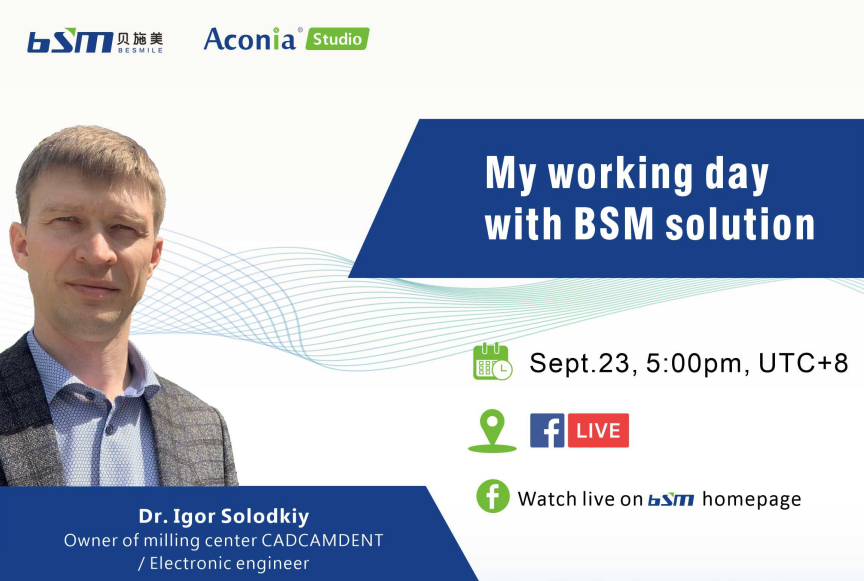 Quick link to products info:
Back to list